PORTRAIT

PURALPINA
The family business puralpina ag was founded in 1992 by Andreas Schmid. Since its foundation, natural Murmeli herbal ointment has been produced. From 2008, the product range was supplemented with high-quality sausage, cheese and salami slicers. In 2012 the two sons Silvan and Reto Schmid took over the business and run it since with enthusiasm and passion. The company is focused on sustainable growth, which is achieved through the implementation of new creative ideas.
PURE AND
POWERFUL NATURAL PRODUCTS
The model and source of the products is nature. It guarantees us high-quality raw materials for health and body care, for enjoyment and also for craftsmanship. Natural and renewable raw materials is everything required. Pure and powerful - the ointments and oils do not need any additives.
TRADITION &
INNOVATION
Quality and consistency are important values of the company. Puralpina is inspired by tradition and seeks innovation in the manufacture of new products. Good things are so close at hand - so why look far away? The company thus combines the rich heritage of alpine folk medicine and its proven, traditional recipes with the possibilities of modern times.

SWISS
PRODUCTION
The natural products are manufactured in Switzerland. There is more to them than just valuable raw materials; a great deal of passion, many years of experience, a long period of development and continuous improvement. The ointments and oils are created by careful manual work in our in-house production. All wood products are manufactured in Swiss workshops by people with disabilities.
SWISS RAW

MATERIALS
Puralpina uses Swiss raw materials wherever possible. Without exception, the marmot oil and wild fats for the natural ointments and oils come directly from the Swiss hunter. Most of the wood used for the slicers grows in Swiss forests. When quality and design demand it, exclusive natural raw materials from abroad such as high-quality olive oil for the Murmeli herbal ointment or fine olive tree wood for the sausage and salami slicers are used.
RESPECT FOR
NATURE
Puralpina has deep respect for nature and the environment. It uses renewable raw materials and processes and refines hunting by-products - such as marmot fat - into high-quality products.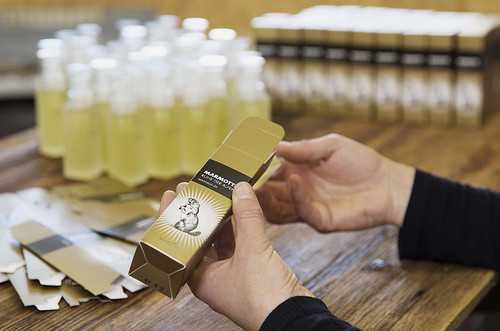 Contact:
Switzerland
puralpina ag
Vorderhasli 1
CH-3714 Frutigen
Tel: 0041 33 671 29 48
Germany
puralpina ag
Moosweg 7
DE-82386 Huglfing
Tel: 0049 (0)8802 9149796