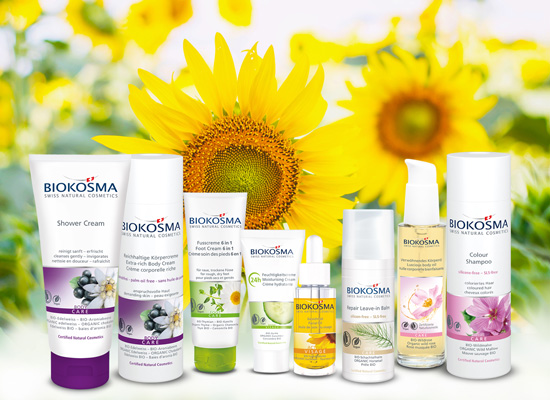 PIONEER IN
SWISS NATURAL COSMETICS
It all began in 1935 when BIOKOSMA was founded by Rudolf Müller, a follower of the "Lebensreform" (life reform) movement, in a small health food store in Zurich. The first BIOKOSMA product was a lemon face cream. All our products are still developed and manufactured in the Swiss mountains. BIOKOSMA uses carefully selected organic plant ingredients from Switzerland, transforming them into effective skincare with state-of-the-art technology that preserves all the goodness of nature.
THE PHILOSOPHY OF
BIOKOSMA
Our product range is as varied as the needs of our users while being clear and easy to understand. Our aim is to offer modern natural cosmetics that harness advances in technology while respecting the environment. BIOKOSMA products contain selected high-quality ingredients and are developed and manufactured in Switzerland to reduce transport miles. We also give preference to Swiss organic plant extracts, which supports Swiss farmers.
PRINCIPLES OF
BIOKOSMA
Ingredients grown in Switzerland

BIOKOSMA uses carefully selected plant ingredients, with preference being given to organic Swiss products of the highest quality. These are carefully processed in line with ecological principles and using the latest findings in research.
Natural preservatives and colorants

BIOKOSMA products contain only natural preservatives and no synthetic colorants.
Free from mineral oils and silicones

BIOKOSMA products only contain plant oils, waxes and extracts. We do not use paraffins or other mineral oils. We also do not use silicone.
GM free
BIOKOSMA products do not contain ingredients derived from dead animals or raw materials from genetically modified organisms (GMOs).
BIOKOSMA products are not tested on animals, either during the developmental or the manufacturing stage.
Dermatologically tested

All BIOKOSMA products are formulated to be kind to the skin. This has been confirmed in independent dermatological studies.
Contact:
BIOKOSMA

Melisana AG

Grüngasse 19

CH-8004 Zürich