NATURAL COSMETICS TO FALL IN
LOVE WITH
ALP81 lures you into the world of pure, natural fragrances with a hint of alpine flair. Everything is grown under the sun and vitalised with cosmic energy in mountain pastures, the fields of province or oriental plantations. Each skincare oil, comprising selected plant essence, has its own unmistakable characteristic fragrance, witch you are bound to fall in love with on the spot.
ALP81 is a natural body cosmetic for the cultivatived, environmentally-aware people of today: high quality, sustainable and with a touch of luxury.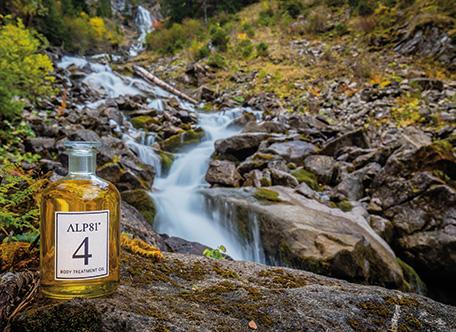 -

For massages and therapeutic applications
-

The purity of the raw materials plucked from nature
- Premium quality, organically grown ingredients
-

Developed and produced in Switzerland
APPLICATIONS OF
ALP81
- Daily Skincare
- As a discreet, natural perfume
- To refresh you on hot days
- For massages and therapeutic applications
SIMPLE - NATURAL -
SENSUOUS
ALP81 celebrates simplicity
Because simplicity, modesty and honesty represent true luxury, our products require neither special names nor atmospheric pictures. We select nature as the foundation of all our products, and vary the choreography of the essences used in our finest fragrances.
ALP81 celebrates naturalness
Only pure, natural plant oils and high-quality essential oils hold vital energy. They are complex substances, made up of countless ingredients and scent components - these are the genuinely powerful substances used in our natural cosmetics.

ALP81 celebrates sensuality
Our products caress, pamper and enchant with a touch of luxury. Whether it is your daily skincare routine, to refresh you on hot days of summer, as a discreet fragrance in the evening or for therapeutic applications.
Contact:
Frutig Group GmbH
ALP81

Parkstrasse 28
CH-3600 Thun